Photo: Getty Images
Tearful Paul Chuckle wept as he carried the coffin of his beloved brother and comedy partner Barry at an emotional funeral today.
Fans are lining the streets to send off 73-year-old Barry — who died of cancer on August 5.
He found fame performing alongside brother Paul on stage and screen — entertaining millions over his long and illustrious career.
Today famous faces like the Nolan sisters and Roy Chubby Brown have come to pay tribute to the comedy star and bid him farewell at a ceremony in Rotherham.
Don Maclean, who appeared on kid's show Crackerjack, said he first met Barry and Paul in 1977 in panto in Nottingham.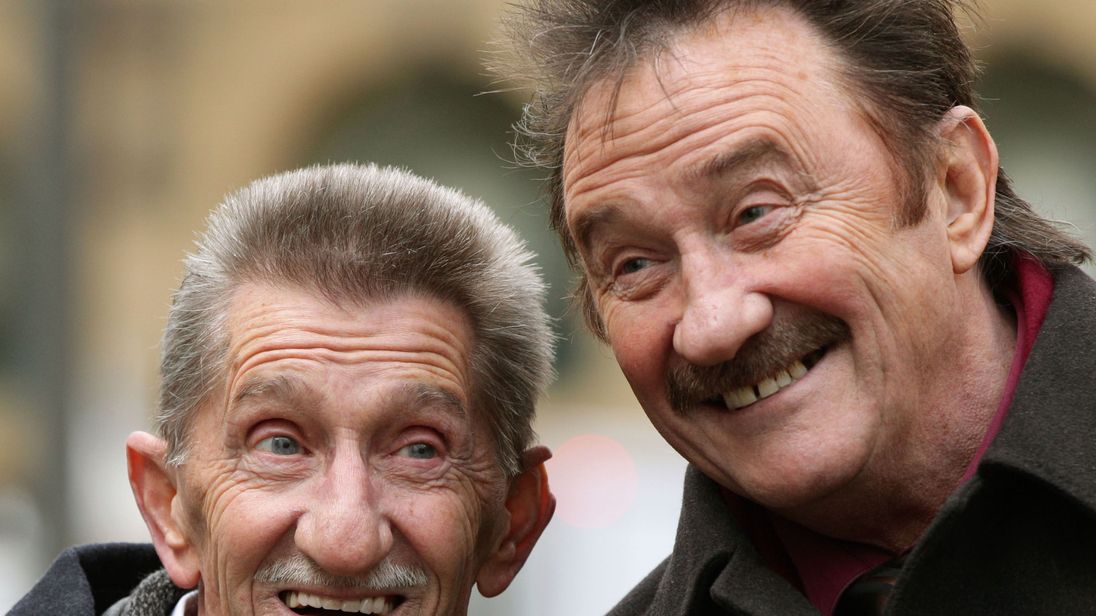 Arriving at the funeral, he said: "Barry on stage was very funny but off stage he was quite a quiet man with a great depth of thought. He was a man of great intellect
"I don't think today can be a sombre affair. People will be very sad, It's a terrible thing to think that he had gone, but I think there must be laughter.
"His life was about making people laugh, right across the generations."
The funeral for Barry, real name Barry Elliott, is taking place at the New York Stadium in the South Yorkshire town.
The stadium is home to Rotherham United football club — which Barry and Paul were honorary life presidents of.

Fans raise a smile as they pay their respects to Barry Chuckle before his funeral
A statement from the Elliott family previously said: "As a family we would welcome fans to celebrate his life and pay their respects with us, outside of the New York Stadium.
"There is an event for invited family and close friends which respectfully is private and by invite only.
"We are overwhelmed with the love and support we have received over the last few days, and thank everyone concerned!"
Veteran entertainer Barry starred alongside best pal and brother Paul as one half of the Chuckle Brothers in the BBC comedy show ChuckleVision, which ran for 21 series from 1987 to 2009.
In an emotional tribute to Barry, Paul said he was "totally devastated at the death of my brother, partner and my very best pal".
At the weekend Rotherham and Ipswich fans united for a touching tribute to Barry.
Supporters joined forces to chant "to me, to you" and "there's only one Barry Chuckle".
His brother Paul, who was in the stands, rose to his feet and waved to the crowd as a gesture of thanks for the emotional stunt.